Senior Citizen Fitness Program
---
Senior citizens face a number of mobility issues that typically don't plague the younger set. They're also more likely to have been affected by serious illnesses or injuries during their lifetime. Physical therapists understand the unique needs of seniors, which is why they're qualified to put together fitness programs that can improve or sustain a patient's balance, range of motion, mobility, etc. This can be critical when it comes to maintaining a sense of independence.
It's easy to categorize all senior citizens into one large group, but nothing could be further from reality. Not only is the aging process related to our genetic codes, but it's also related to a person's individual experiences. A 90-year-old stroke victim with limited mobility on their right side will have a very different fitness program than a 90-year-old who runs two times a week. Our therapists take the time to learn more about a patient's lifestyle and physical abilities before coming up with a fitness solution.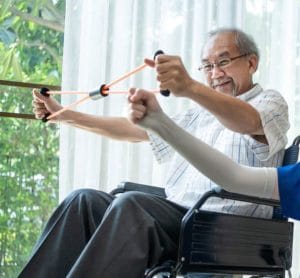 The good news is that a well-designed fitness program can help senior citizens from all walks of life both protect and improve their mobility. A proactive, preventative set of exercises is one of the most positive choices that you can make for your health. Exercise isn't just recommended, it's necessary to keep the joints and tendons from atrophying.
A good healthcare specialist can devise a program that will empower a senior citizen to stay on top of their regimen. (Our therapists understand that the only programs that matter are ones that their patients actually complete.) The more fit you are, the more you can stave off injury or illness — and this is true regardless of how old you are.
Keep in Touch
DHP Physical Therapy
Request an Appointment
DHP Physical Therapy